Posted by GaelicPerformance on 30th Jul 2014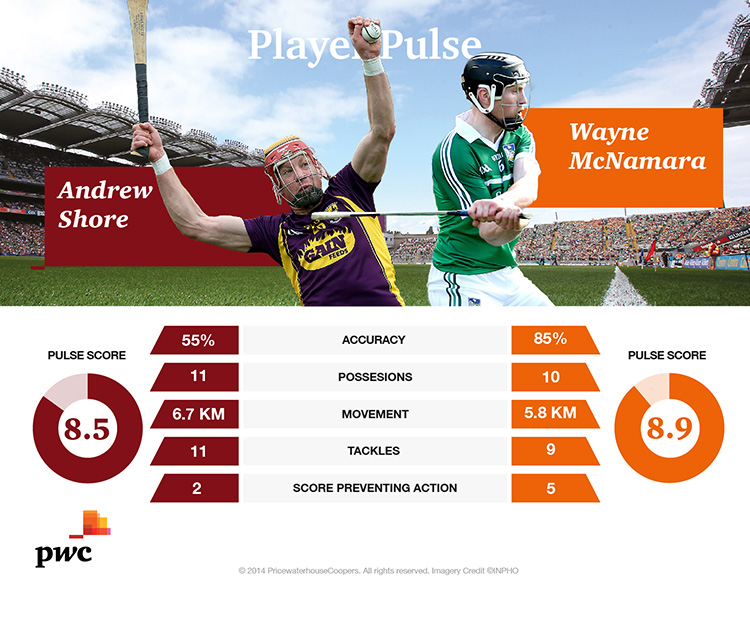 No doubt this is a very nice Presentation of some very important and quantifiable elements of the game.
But is this just shallow analysis?
Lets take Accuracy for example: 55%/85% - On the face of it, it looks like Mc Namara is way ahead( and possibly is). But these figures do not take into account several key factors such as difficulty of the passes, pressure on the player when they made the pass, outcome of the pass, time of the pass( last minute in the game v 1st minute in the game) etc
We all know players who have 100% passing accuracy, simply because as soon as they receive the ball, they give it to the nearest person to them......
While these quantifiable elements are very important, is the move towards flashy statistics that has become common, really just a way that makes analysis a job that anybody can do, without any in depth thinking ( Tick the boxes, Plug it into the computer, and out come the graphs). Supporters love stats, so why not give it to them....
In his book, the Mc Donaldization of society, George Ritzer talks about this quantifying, and how it is creeping into every aspect of our society. As he says " Quantity tends to become a surrogate for Quality". Why do they call it Big Mac? So people will think that they are getting a Substantial Meal.... Quantity = Quality
But the stats are not the concern. The concern is that coaches and players may become obsessed with "The Quantities", and spend all their time talking and thinking about number of tackles, possessions of the ball, accurate passes etc.
Lets take Kick passing for example - A young player who joins the senior team just loved playing football or hurling. It is really enjoyable and they can get to "express" themselves, and now they get the same chance with the older lads. After one game, the coach comes over and says, " Jimmy, you made 10 kick passes today, but you only had a 60% completion rate. We need this at 90%" So what does Jimmy do? Does he go and practice those 4 kick passes that didn't work out, or does he just kick the ball 6 times in the next game. If he does either, the stats will say jimmy had a 90% completion rate, but as with most human beings Jimmy will take the path of least resistance, and just kick the ball 6 times or eliminate the "risky" passes from his game. The quality of his game has not improved, but the coach will think that they have done a great job in coaching the player to achieve a 90% pass completion rate. The coach did not see that one of the 4 passes in the game was just intercepted by a finger touch, and if it had made it, one of Jimmy's teammates was through for a goal.
There is no doubt that these quantities are vital, but it is also important that players and coaches are encouraged to think about quality as well as quantity when it comes to their game. There is no point in running 10km in a game if you have never timed a run to open up a defence or drag opponents out of space.
Maybe we could decide drawn matches by awarding the win to the team that made most tackles, or took most shots........